Northern Edge Physical Therapy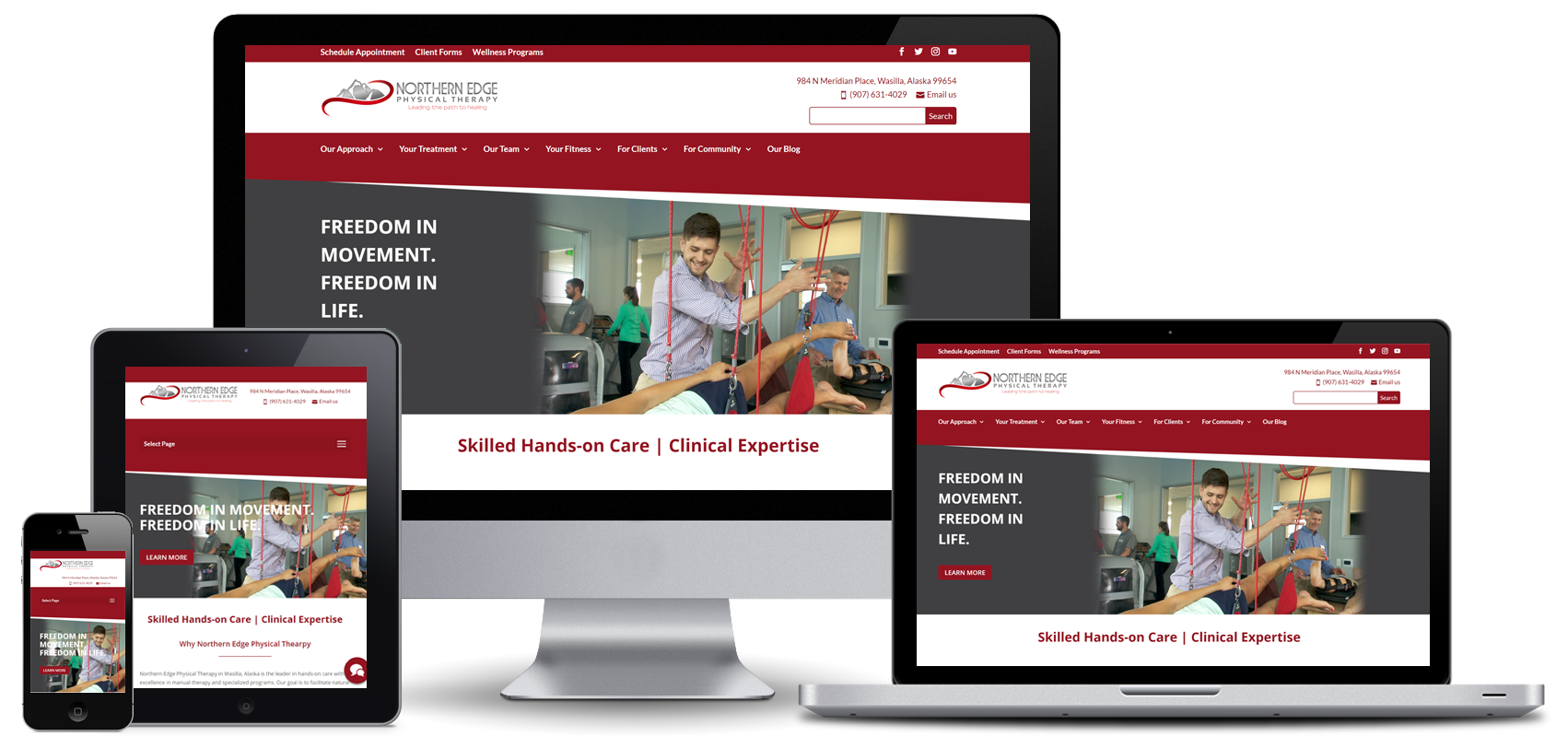 About Client
Owned by Dr Keith Poorbaugh, Northern Edge Physical Therapy is the leader in physical therapy in Wasilla, Alaska offering the best in treatment for patients.
Project Details
Service Period: 2016 – 2019
Location: Wasilla, Alaska (USA)
Website: NorthernEdgePT.com
Services Provided
Responsive Website Design & Development – 2016, Redesign 2018
Content Management System (CMS)
Blog integration
Search Engine Optimization
Local Search Marketing Consultation
Social Media Optimization Consultation
Email Marketing
Online Advertising – Google Ads & Facebook Ads
Website Maintenance
Website Backups & Monitoring
Google Analytics & Performance Reporting
As a busy physical therapist in my own private practice setting I have discovered the exceptional value of NetStuff website services. I have experienced some real pitfalls common among small business owners trying to establish a presence and brand on the web. After many trials with other so-called leaders in web design and management, I came across an exceptionally well designed and up-to-date web page. At the bottom of the page, it was noted NetStuff was responsible for the design. I contacted NetStuff's office via their website and I was immediately put in touch with an account representative, Manisha.
Over the past 2 years I have nothing but praise for Manisha. She has worked through many layouts and templates to craft a complete redesign of our website. With monthly analytics & SEO, she has guided our website to a top tier response on all the web search engines.
It's common to make plenty of mistakes when starting your own business, but choosing the wrong web management can be a costly venture. I am confident that NetStuff is the right choice for business owners wishing to establish a superb website at a reasonable cost. If you want to compete, you must have a presence on the web which is relevant to your consumer base. NetStuff is the best choice to help you move beyond the competition.